Post by Hellvis Azal Deathley on Sept 14, 2014 21:16:23 GMT
Okay, dudes, here it is.
Your latest competition. This competition is art based, and what we want you to do is create an image of the Great Pert himself, at work in the kitchen. He must be made to look busy, but enjoying himself immensely, either cooking up a dish, or devouring one, it's your choice!
Competition Rules:
1/ Your entry must show the Great Pert, in the kitchen, either making a dish, making a mess, eating a dish or and etc... Anything which is kitchen/ cooking and recipe related. Please give your entry a title.
2/ Your image can either be hand-drawn/ scanned, computer drawn or photoshopped/ GIMPed etc. You may add a slogan or caption if you wish, but this is not compulsory.
3/ Your entry must be NO BIGGER THAN 600 X 600 PIXELS. Have we got that? If you submit a design larger than this, you will be severley told off and asked to go away and make it smaller. You will then have to re-submit your entry.
4/ You may submit up to a maximum of THREE entries. If you submit any more than this, I'm sure they will be admired by all, but we cannot count any more than THREE entries per person.
5/ As per Rule 4, if you do indeed come up with a better design you wish to enter after you have submitted 3, you will have to ask us to discount one of your previous entries.
6/ The competition will close on Wednesday, 24th September 2014 at 11:00 PM (GMT). That's 10 days guys with which to perfect your incredible design(s).
7/ After the competition is closed all entries will be polled to select the winner. The top 3 with the most votes will be added to the forum's avatar library.
8/ Final descisions will rest with the forum Management, such as in the event of a tie
9/ Winner will receive 500 P$,
runner up 200 P$,
3rd place 100 P$,
10/ ALL entrants will receive an artisan badge of their choice. There will be two badges with which to choose from. You may choose from the Pallette Brooch badge, or the Artistic Genius Badge (Only one badge per entrant) Please state which badge you would like to be awarded. You will be awarded one badge on your first entry only, so choose wisely.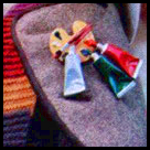 Pallette Brooch Artistic Genius
11/ KEEP IT CLEAN! (but not too clean, is allowed)
Oh, and GOOD LUCK!