Post by Fanny on Sept 30, 2014 10:46:39 GMT
One of the Doctor's friends at UNIT is named Benton, but what if Sgt. Benton became as his name implies, i.e Bent On Destruction? Read on.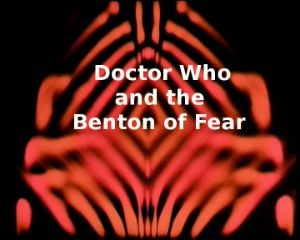 The Doctor and Jo are at a scientific conference where the Dr has become embroiled in an argument about delta particles. Just then they get a direct call from the Brigadier: "we've found something in the woods... and it's glowing strangely. Thought we better call you."
Dr: "Very wise, Brigadier. If that's what I think it is, it could well be the greatest threat to mankind your race has ever seen."
Arriving at the woods in Bessie, the Dr examines the object – a strangely glowing meteorite.
Dr: "Sgt Benton, be a good chap and put this in the back of Bessie will you? Wrap it up in my cloak here, don't let it touch you, skin contact could be extremely dangerous."
Benton however removes the cloak so as to 'make it comfortable' and he briefly touches the meteor with his skin. He winces. [wibbly Radiophonic effect] But then rejoins his platoon.
Jo: "Did you really mean what you said about it being dangerous, Doctor?"
Dr: "I don't know Jo, but I think I better run some tests on it right away. If I'm right, it could well be the greatest threat to mankind your race has ever seen."
Jo: "Yes I know, you just said."
Dr: "And quite right too. Because that meteor could well turn out to be the greatest threat mankind has ever seen."
The UNIT Labs at night. The camera is the POV of a mysterious, unseen stranger, breathing heavily and opening doors with huge hairy claw-hands. It nears the Doctor's Lab where a guard is on duty.
Guard: "Oh hello there Se-ARGHHHH!"
The Guard is clawed to death horribly. The unseen figure snatches the meteor and leaves....
The next day, Jo is giving a special concert for the troops to boost morale. She does a dance routine dressed in spangly Go-go boots and matching hot pants, to the great appreciation of the men. The Doctor watches from the back, tutting. But then he catches the gaze of an unsmiling Sgt Benton. Benton turns away, and leaves through an exit.
The Doctor follows him.
Dr: "Sgt Benton. Sgt Benton! Stop, I want a word with you! I-"
Benton runs off but the Doctor finds the dead guard outside his lab. He examines the body.
Dr: "Claw marks. My worst fears are being realised."
Outside the Brigadier's office, Benton is looking in through the window at the Brig as he talks to the DR and Mike Yates. [NOTE: Nicholas Courtney off on holiday so we only see a double as the Brigadier, from behind and with no actual dialogue.]
Dr: "Yes, I'm afraid it's true. I think Sgt Benton has become contaminated with a deadly space virus that as we speak is changing his body chemistry into that of a grunting, hair-covered, maddened ape."
Yates: "But how can we be sure?"
Dr: "You see, he was watching Jo Grant's concert in the mess hall and wasn't interested. His mind only has room for death and destruction now. No, it's no use arguing Brigadier – yes, we must send out a manhunt. Now, man!"
Benton crashes through the gates as if they were merely silver-spray painted cardboard [note to Vis.Design Dept: use cardboard sprayed with silver paint] and kills the first person he comes across, an old granny waiting at a bus stop.
Granny: "Aieeeeeeeearghhh!"
Benton: "Grrrrrrrrrr! At the double, grrrrrrr!"
The Doctor and Jo jump into Bessie and speeds off through country roads. In a fantastic CSO shot we see Benton actually running alongside him on the opposite side of a country lane, keeping speed with Bessie and even just outrunning it.
Dr: "Stop, Benton, stop! (toots Bessie's horn) It's no good. I'll have to run him over."
The DR steers Bessie sharply to the left, hitting Benton full on. Benton goes flying into the air – but he is then caught in a strange green glow and hovers in mid-air. A ship then becomes visible.
The Dr: "Of course, it's as I feared. Benton has been contaminated by a meteor from Urrlangapoo, and the Urrlangapoo Space Fleet are here to ensure he carries out his mission of evil. This could well be the greatest threat to mankind your race has ever seen. There's only one thing for it –"
The Dr gives Jo the wheel and, keeping pace with the flying spaceship/Benton, he stands on Bessie's bonnet and leaps into the air.....
....landing on the flight deck of the ship.
Two Urrlangapoos, who resemble the transformed Benton but with silver spacesuits, tower over him.
Dr: "Whom do I have the pleasure of addressing?"
Urrlangapoo: "I am Quatlokkangapoo, the leader of the Urrlangapoo race. You have heard of our people?"
Dr: "I have indeed, your excellency. I once assisted the 18th Urrlangapoo Emperor in a matter of some urgency. But I have come to beg you... please turn Sgt Benton back the way he was. This is madness, transforming other races into your own kind... it's sheer folly. A folly which could lead to nothing but untold death and destruction. Is that really the reputation you wish the Urrlangapoos to have throughout eternity? As a race of hideous, violent hairy ape-men with no sense of justice?"
Deeply moved by the Doctor's speech, the head Urrlangapoo lets Benton go. Jo catches him in Bessie.
The Dr: "Thank you, your highness."
Later, Benton is relaxing in the mess hall with a bandage on his head and one arm in plaster. He is drinking a mug of coffee.
Jo: "So how do you feel now Sgt?"
Benton: "Ooh, I feel awful miss. I just can't believe I was taken over... that I actually... killed people."
Dr: "Nonsense, you're not to blame. And you only actually killed two people. Just think of how many more you could have gone on to kill if I hadn't persuaded the Urrlangapoos to listen to reason."
Benton: "Thanks, Doc."
Just then there is a tremendous knocking at the door. It is a Professor.
Professor: "Ah there you are, Doctor. Now, you were explaining to me your frankly idiotic and unscientific theory about Delta Particles..."
The Dr turns and gurns to camera: "Oh no!"
Benton: "IT's alrigt Doc. Want me to kill him for you? Ha ha!"
Jo: "Ha ha ha ha!"
The Dr keeps gurning as the end titles roll.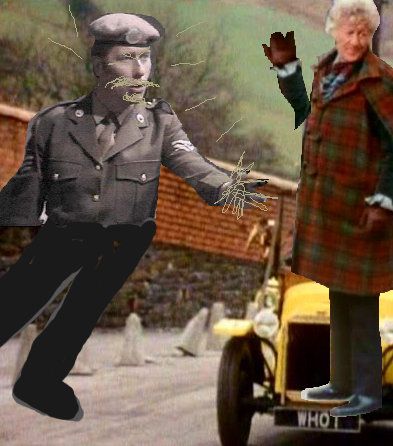 ARCHIVE FEATURE by Andrew Parsley

This was not the first serial to feature Benton as a murderous hairy man. It follows on from 'Inferno', and immediately precedes 'The Brig on Holiday', the 1974 Summer Special episode in which Benton mistakenly swallows a potion and is chased across Dartmoor by the Brig in his Flying Utility Harness.
Pertwee was doubled by Terry Walsh for the scenes where he leaped from the bonnet of his speeding car. Walsh sustained two broken legs whilst filming this scene so was double-doubled by Pat Gorman wearing a 'Terry Walsh-as-Jon pertwee' wig. Gorman also broke both legs filming this scene so was treble-doubled by Roy Skemmel wearing a 'Pat Gorman-as- Terry Walsh-as-Jon Pertwee' wig. Director Paul Bernard wrote the three stuntmen a letter of thanks when recording was completed.
Ratings for the story were high with a steady climb throughout. A young fan, questioned as part of an audience survey, said he "liked the bit where Benton became a hairy man and killed people" but this controversial scene was cut from the master tape when the NVLA complained after part Two (the episode in question) was broadcast. John Levene remains fond of the story even today and often re-enacts the scene where he kills the granny at Dr Who conventions.